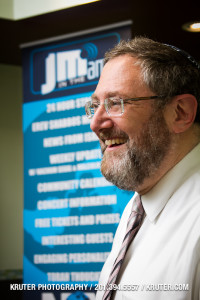 Nachum Segal has been the host of JM in the AM (Jewish Moments in the Morning) since 1983. In 29 years, the show (based at 91.1FM in the NY area) has evolved into the radio program of record in the Jewish world. JM in the AM has an international following (jmintheam.org) and global influence.  Nachum's smooth presentation of music, news, interviews and community events accompanies tens of thousands of listeners through their morning routine.
In 2012 Nachum founded the online Nachum Segal Network providing exciting and original content in a unique music/talk format.
Nachum serves as Master of Ceremonies for major New York area concerts in some of the most prominent venues and travels to Israel and other locations for events and live broadcasts.
Team Yachad is excited to announce that Nachum Segal will be broadcasting their Friday morning and Sunday morning JM in the AM shows LIVE with from Miami.  Friday morning show, 6:00am-9:00am will be LIVE at the Marco Polo Hotel and Resort, Team Yachad's official hotel.  Sunday morning show, will be LIVE from Team Yachad's post-race tent in Charity Village at the finish line of the ING Miami Marathon and Half Marathon.
JM in the AM will also be joining us LIVE from the Jerusalem Marathon, Half-Marathon and 10K on March 1, 2013.  Stay tunes for more info.